C2SAT COMMUNICATIONS AB SOLNA, Sweden

C2SAT, established in 2000 and headquartered in Solna, Sweden, develops, manufactures and supplies innovative stabilised maritime VSAT antenna systems enabling vessels in motion on-line two-way satellite broadband communication. C2SATs business objective is to reduce costs for maritime VSAT satellite services making it possible to get availability to the bandwidth actually paid for during dynamic conditions. Customers range from fishermen in the Scandinavian fishing fleet, Oil & Gas to Military & Governmental companies.Our aim is to be one of the three largest suppliers of VSAT antennas to the maritime market and to reduce costs for maritime VSAT services through a constantly well-positioned product portfolio.

unselect all/select all
You have 0 products selected
VSAT Antenna
Send enquiry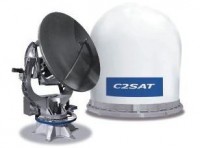 C2SAT is launching a new reflector solution for the Ku-band, based on its proven 4-axes system for stabilising VSAT antennas in maritime environment.